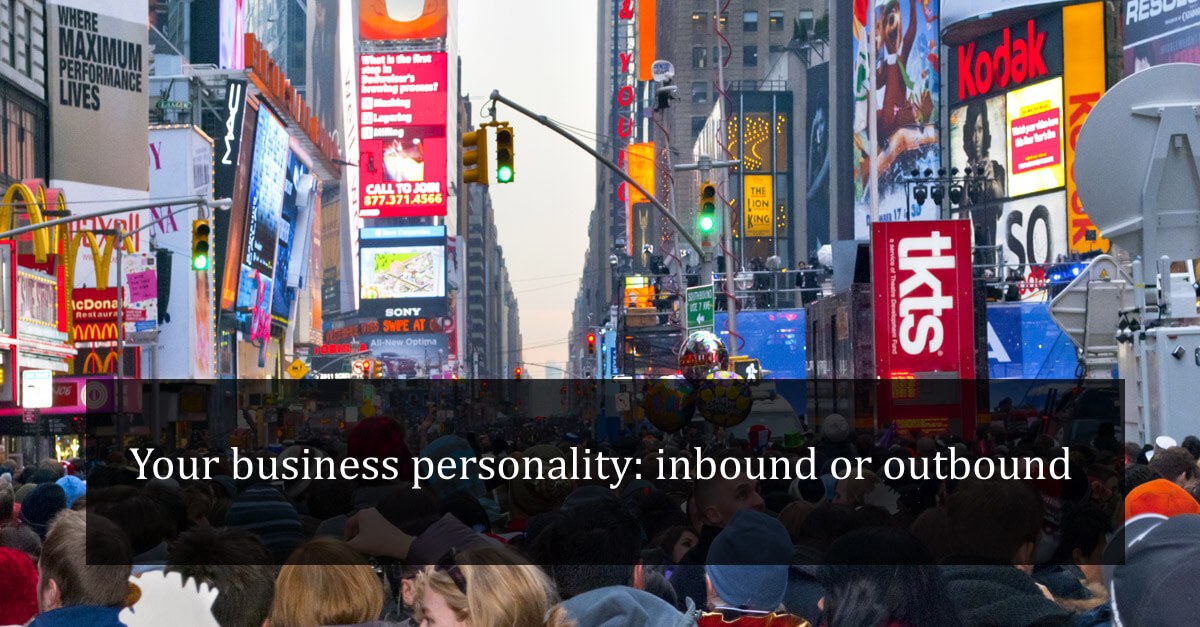 Is your business an extrovert, who likes to be in front of a crowd, or an introvert, who likes to create the feeling of one on one conversations with prospects?
There are two main overarching categories of marketing. Most businesses use a blend of both but will place the bulk of their budget and emphasis on one or the other. You can even think of it as having to do with the "personality" of your business.
Outbound marketing
Many people call outbound marketing just plain "marketing" — it's what most people traditionally think of when they think of marketing. This category includes methods like…
Direct mail
Advertising (whether in newspaper, magazines, at bus stops, on television, radio, or via digital)
Telemarketing
Events
When you're doing outbound marketing, you typically start with some knowledge of your customers, such as where they are likely to live or shop, what media they like to watch, even what political party they might most identify with. Then you go out and put your advertising in the places you believe that type of person will see it – that might be direct to their doorstep through direct mail, or in the form of advertising.
Essentially you go out to get them.
Inbound marketing
Inbound marketing is focused on attracting customers who have already self-identified themselves as wanting the products or services you offer, by creating content and incentives that will feed their interest and make you a natural search destination. If you're pursuing an inbound marketing strategy, then most likely the cornerstones of your marketing plan will involve…
A website
Content marketing (blogging, podcasting, videos)
Search engine optimization (SEO)
Social media and other forms of social marketing
You might also have strong referral programs or strategies for turning existing customers into sources of new customers you've not met before. What these marketing methods tend to have in common is that they focus on attracting unknown prospects to your business (bringing them in).
Which do you prefer?
When faced with the question: "Do you want to focus your energy on making more people aware of your products and services – OR – focus on making it easier for people who already know they want what you offer to find you?" most business owners will answer, "Both!"
And both are a good thing to do – outbound marketing can eventually turn uninterested people into potential customers, who are now searching the web for the types of products or services you've been advertising them, and you want to make sure that you turn up immediately in those search results rather than just your competitors!
Due to logistical restrictions, most small businesses will find that they need to throw the weight of their investment behind one method more than the other, and which one can be a challenging decision. Here are a few things to consider when trying to decide which one you will give preference to:
Do you compete on value rather than on price?
If you are trying to establish the value of your services such that people are willing to pay more for them even when there are lower cost options, content marketing can be a great way to demonstrate the depth of your knowledge and establish trust, as well as attract the sort of person who does more research before making a purchase.
Do you sell a new or unusual product or service?
If you have a newly invented product that no one is searching for because no one even knows such a solution exists, you may need to focus your efforts on outbound marketing methods in order to inform the public.
Do you need immediate results or are you looking for a longer term strategy?
Although inbound marketing efforts can result in a stable stream of new leads for 2-3 years or longer even after you stop putting up new content, it also takes longer to start producing its results. You should expect it to take at least 3 months before you start to see your first results, and another 3 before those results become significant. The more time you continue to invest in it, the bigger the results will become, and the longer the lingering positive effects will continue should you stop investing in it. But if what you're looking for is a quick hit, you might need to start with a short-term outbound plan first.
Of course, there are too many scenarios to go over in one blog post, but we'd love to chat with you about how to find the right balance for your marketing.