In the distant mists of time – also known as 2014 – Julie Gorham, head of Marketing EQ, received a hand-addressed envelope. Inside was a direct mail piece with the simple invitation: "I'm Kim. I'm a web developer. And we should be friends."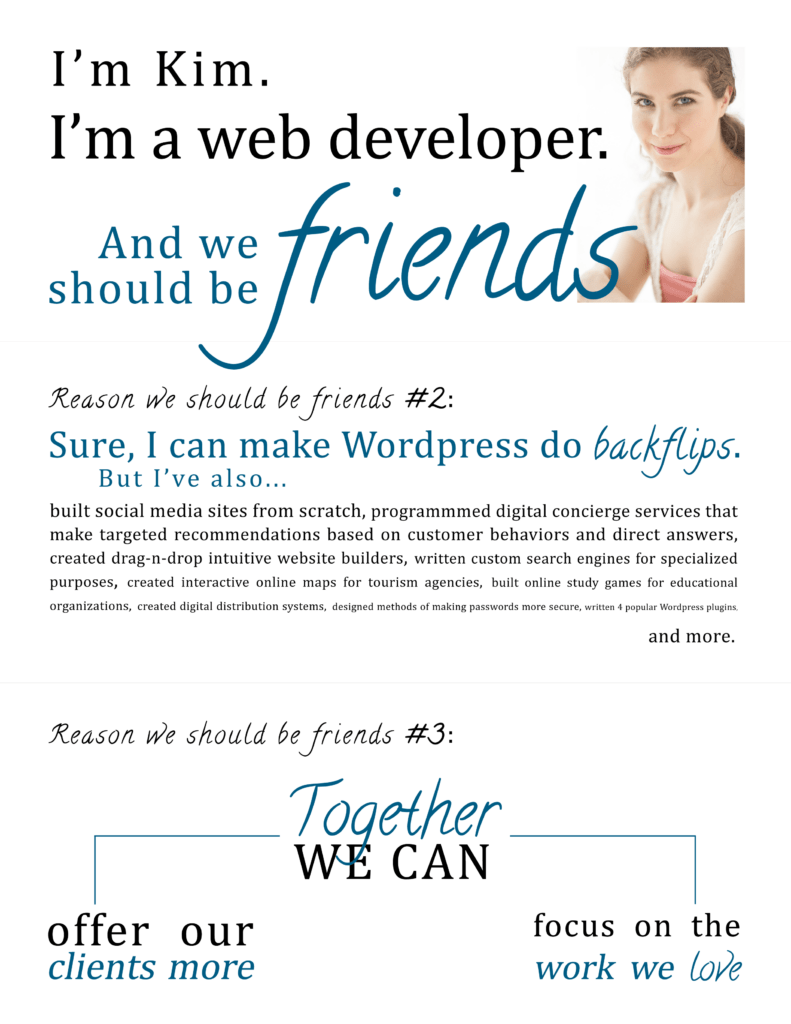 "The simplicity of design and content, combined with the warmth and charm Kim exuded in the messaging prompted me to call right away," says Julie. "Since then, I've been describing her style as "invitational" because she knows how to draw you in."
Kim and Julie met in person at the Marketing EQ office a few days later. At the time, they had a simple plan: Julie had big ideas for digital experiences for her clients, and Kim had the coding expertise – and the team – to enhance and then execute on those plans. Kim's web clients often had bold ideas and had developed the tech to match, but they needed the help of a marketing agency to tell the world about the great things they'd done. A partnership was born, and together, Julie's Marketing EQ and Kim's PIXELovely Web Design and Development set about building and doing great things for a wide variety of clients.
In September of 2016, Kim and Julie met for breakfast and talked about how business was going. Here's the dark chocolate strawberry waffles they had that day:
"All of my clients need marketing if the amazing things I build for them are going to succeed commercially," said Kim.
"All of my clients need web and digital support – it's the reality of business in this era that no one can do without it," said Julie.
That's when they knew: it no longer made sense for PIXELovely and Marketing EQ to operate as separate agencies. It was time to combine their expertise.
Breakfast stretched into lunch as the pair discussed the benefits they could bring to all of their combined clients, how their teams could be merged, what their new services packages might look like. There was also a great deal of discussion of how the ancient Roman army perfected the use of repeatable, customized processes even for very minor, everyday activities in their camps, which allowed them to conquer much of the known world by never missing a detail. It was nerdy, but also very applicable to how to run a modern marketing and digital agency.
Things moved quickly from there. By January, 2017, the two companies were officially merged. Julie and Kim were 50/50 owners of the new Marketing EQ, Inc. Their teams were learning to work together and the two company's proprietary business processes were being streamlined and made to work perfectly together. All of PIXELovely's clients were being transferred to Marketing EQ, Inc. By February, Kim moved from Oregon to Vancouver, Washington, eliminating an hour and a half from her daily commute.
"We discovered in our process of bidding and working on new projects that Julie's expertise was in handling the front end of the relationship for strategic planning and requirements gathering, and my expertise is in managing the projects and people from start to finish. It works out very well," says Kim. "Very soon, I was in charge of managing our production teams, while Julie was heading sales and strategy."
Together, Kim and Julie have a background in advertising planning, research and media, marketing, web coding, design and development, software development, creative arts, process improvement and even animation (computer animation, traditional hand-drawn-on paper animation, and even claymation) that began in 1988. They combine a rich portfolio of traditional marketing expertise and digital media that serves clients of every size. The company's core team operates both locally and internationally and they are licensed to do business in 15 western states in the US, and licensed to do business with the federal government.