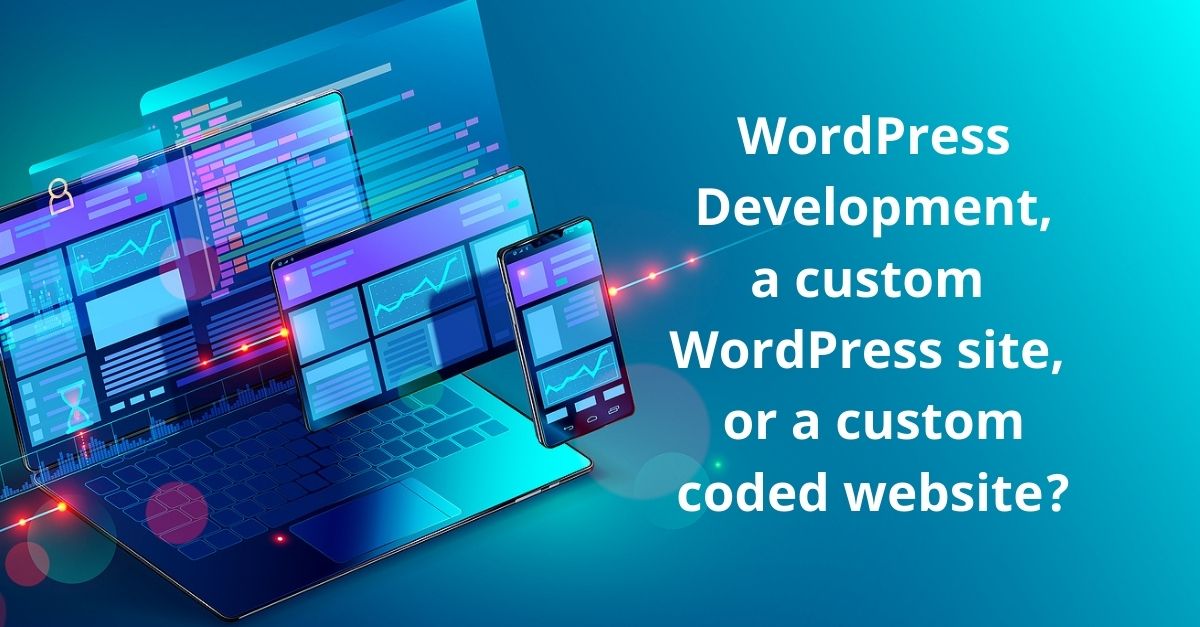 What's the best way to build a website?
Website development can be accomplished through stand-alone custom code, or a variety of CMS (Content Management Systems) like WordPress, Magento (e-commerce), Shopify, Wix and more. Custom code is expensive, and it must be updated along with WordPress and PHP updates which happen quite often these days. We choose WordPress for small business sites because it provides enough functionality needed for most of our clients and their businesses. Off-the-shelf WordPress themes have their own set of native features, some being baked-in (Avada), others with minimal functions but with add-ons so you keep the site running quickly (like Divi.) Some have small licensing fees, while others are quite steep. Adding specific software (plugins) for functionality, visual features, ease of use, and security can also be free or require annual fees for use.
What you want your site to do, how often you want to change it, and what you intend to change are big factors in what type of site is built.
If your are a business that makes $2M or more in annual revenue, you can probably afford to build a custom-coded site, or pay the expensive annual licensing fees of e-commerce CMS platforms. But why? If you are unclear about which web requirements will need to grow as your company grows, to keep costs down, you may want to build a robust WordPress site – either custom coded, an off-the-shelf theme or both. Some companies start small with a WordPress website, and after a year or three, they outgrowth that site and discover they want something that isn't easily or cost-effectively achieved in this environment. WordPress is highly flexible, so you may want to obtain a variety of quotes before you make the decision. Every custom coder will have an opinion about this, and they will all vary in their opinions. Retaining a Project Manager on website planning team, who has extensive web experience, is one of the best investments you will make in the website planning process. Making platform, CMS, or theme decisions based on growth is a huge decision. The consequences of poor planning, or lacking the expertise to evaluate proposed solutions can mean delays, bloated costs, and rebuilding the site again. Prevent mistakes will ensure you can can get the most cost-efficient solutions with the site extensibility you will need to meet both short and long-term goals.
Some important considerations when weighing your platform and development options:
1. Is your site more about content you are presenting or about products you will sell?
2. Do you have a database that will change and grow at least once per year?
3. Do you need a custom dashboard at the back end for users, managers or owners, with custom reporting options?
4. Will you have to frequently update many products and their associated descriptions, pricing, availability, specials and more?
5. Will online purchases require various shipping options?
6. Do you need something that you cannot get with off-the-shelf CMS platforms?
7. Will you have a growing number of users who register with the site?
8. Will you serve multiple countries and use multiple languages?
9. How much site traffic will you have?
How you answer these questions will be a good start to the website development planning process.
My Professional Perspective
While website development was not my foundational knowledge base, I have devoted much time, over a decade, to understand best practices, including: attending web tech meetups, formal web education, managing over 21 sites, managing hosting transfers and working with a variety of technologies at the back end of websites to accomplish web goals. I have been committed to continuous learning and understanding what is truly required for the most efficient, healthy, and manageable sites for both WordPress and custom-coded sites. I was the project lead for the re-development or the Portland Project Management Institute website which was a custom Drupal solution with pre-formatted layouts. Over the years, after talking with senior level-engineers who have worked on top brands and large e-commerce and membership sites, I am much clearer when, why and how you should use one method and platform over another.
What are the best web languages and why?
There are quite a few languages now to code a website, and each offers very specific benefits depending on what the developer deems is the best language to accomplish very specific goals. Some have hierarchies that make the site changes for design more flexible. This is always up for debate by the best of the best and we cannot advise on languages.
WordPress themes and customization
The WordPress CMS is very flexible in functionality and design. It can be coded from the ground up, or an existing design (theme) can be used or modified to suit your needs. We create bespoke websites so no two sites look the same, but we generally use two of the top WordPress themes. One theme has a lot of functionality baked in, while the other doesn't at all, and you add what you need. There are benefits to both, depending on the site requirements.
For adding custom code to your WP site or to override the theme defaults, you can use the theme editor. Our site has quite a bit of custom code to utilize a client portal. You need a custom coder for this work.
You can also use a variety of APIs that connect technologies together to your site too, so it interacts with other services, like credit card processing, email marketing pop-up and sign up forms, and more.
Custom-Coded Website
When a major WordPress and PHP update was performed, my neighboring web development competitors reported having to rebuild multiple custom-coded sites. With all of our theme-based sites, we only had a couple with plugins issues that had to be updated, but that was it. Case in point for no custom code!
Let us know if this was helpful, or, if have any questions reach out to hello@marketingeq.com